June 2015
Let's talk about patient satisfaction.
It matters from a reputation angle; Yelp reviews are endemic. It matters from a professional satisfaction angle; nobody likes to be disliked. And it matters from a systemic angle; patient satisfaction surveys are now tied to Medicare reimbursements. Moreover, we've seen employee-physicians with 20% of their compensation tied to the results of these surveys.
That can be problematic. Because medicine is not, nor should it be, a purely commercial affair driven by "customer," ahem, "patient" satisfaction. As one wry physician noted: "Patient satisfaction, taken to the extreme, gives you Michael Jackson."
Moreover, it doesn't appear to make people healthier. To wit, the conclusion of a 2012 study in JAMA: The Journal of the American Medical Association:
Conclusion: In a nationally representative sample, higher patient satisfaction was associated with less emergency department use but with greater inpatient use, higher overall health care and prescription drug expenditures, and increased mortality. (emphasis added)
The mechanism seems to be straightforward, as captured in this study in the New England Journal of Medicine.
Many patients receiving chemotherapy for incurable cancers may not understand that chemotherapy is unlikely to be curative, which could compromise their ability to make informed treatment decisions that are consonant with their preferences. Physicians may be able to improve patients' understanding, but this may come at the cost of patients' satisfaction with them (emphasis added)
Maybe the New Yorker headline outlines the issue easily:
            When Doctors Tell Patients What They Don't Want to Hear
You don't have to be a rocket surgeon to know that it makes patients unhappy. We tend to, as people, shoot the messenger. And that's a Catch-22. What's a physician to do if the cost of creating informed patients is lower satisfaction? Conversely, what if the cost of creating satisfied patients (on surveys at least) is less informed decisions and higher morbidity?
And who's at fault if all the higher morbidity folks team up and get nuclear-legalistic, anyway?
My guess, not Medicare.
Which brings us to a fundamental problem with patient satisfaction surveys. One patient = one vote. That means the patient who gives you one star, because he "liked the doctor who was here before, better" has the same impact as the patient who gives you five stars for saving her life.
xkcd picked up on this problem with consumer-driven democracy in a related comic on smartphone app ratings: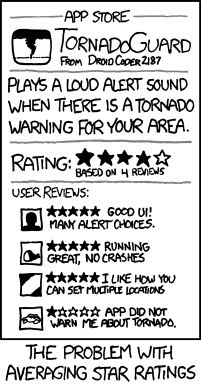 Of course, even the fact that we live in a world where there's a meaningful parallel, in a satirical webcomic, between ratings of smartphone apps and ratings of physicians….
Well, maybe I should take a vacation…
I wonder what beaches are rated best...
Did you enjoy this post?